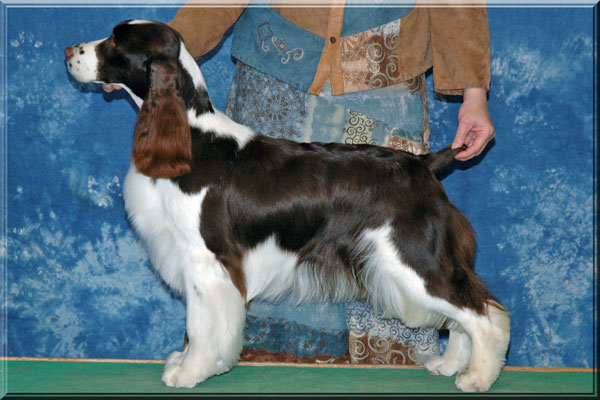 Brendael Magical Sonnet
"Bridget"
(U-GRACH Am CH Hillcrest Namtn Kocrk Canvas VCD1 RA AX AXJ JH CGC (TDI) x
Brendael Heirloom Magic NAP NJP CGC)
"Canvas" x "Hannah"

liver/white female born March 15, 2007
PRA Carrier - CERF Normal
I am cute, cute, cute. I got my name Bridget because I am cute. According to baby name sources, Bridget derives from the Irish name Brighid, meaning 'the high one' or 'strength.' Brighid was a mythological Celtic goddess of fire and poetry. My mom says that I must be strong since I was so little when I was born that everyone was worried about me. I showed them, and I GREW. I am bigger than Rose now, but she still tells me what to do cause she is older. According to another source, a girl named Bridget is often described as a short, cute, athletic girl with red hair and freckles who is outgoing, energetic, fun, and a good organizer. That's ME! (except for the short part, I grew ya know.) Athletic is good too, I like agility class. I got reddish hair and lots of freckles, I like my freckles. Although my cousin Aidan is not impressed. He likes being the one with the most freckles before I came along.
Bridget decided that she wanted her very own family. She got tired of going to dog shows and sharing time with the other dogs. She has a new family in Michigan who dote on her. She gets to be a 100% house dog and go to the nursing home to see her new grandma.
| | | |
| --- | --- | --- |
| | January 2012 | CPE Level 1 Handler Games and Strategy Games |
| | March 2012 | CPE Level 1 Standard agility |
| | | |
| --- | --- | --- |
| | | |
| 3 weeks. Seeping with my mama | 4 weeks. My mama didn't finish this. I wonder if it is any good? They don't feed us enough around here. | 5 weeks. |
| | | |
| I'm 6 weeks old. After reading books last week, we thought that we would try the equipment out. | 8 weeks is still evaluation time. I might be small but I am growing fast. | I also have spots and curly hair, just like cousin Aidan. |
| | | |
| 11 weeks old. I like to look at the peonies, the others like to roll in them. | I am 3 months old now. I am growing like a weed. | Long, long legs. I like going to the agility classes with Aidan and Rose. |
| | | |
| It is hard to believe that I grew this much in 6 weeks. I am 4 1/2 months old now. | 1 year old now. | My mom forgot we were getting my picture taken. I am need a hair cut mom! |
| | | |
| 14 months | 14 months at a dog show. I might not have won, but I look pretty. | Almost 2 years. We are at the Hoosier Kennel Club dog show. |
| | | |
| Almost 2 years. I went Best of Winners for my first points. | Sept 2009 at St. Louis MO. | We went to the National. |
| | | |
| I like agility better than "real" dog shows. | At least I get to run and jump. | 2009 Holiday photos |